Inwood Coffeehouse
Friday, January 9, 2004. Doors open 7:30 PM
| Feature Act | Location and Directions | Gazette News Article | Journal News Article |
| Pictures: December 2003 - November 2003 - October 2003 | Archives2003 |
---
Featuring This Month: Alan Lewine/John Kammen Xtet
Bassist/composer Alan Lewine first took up the string bass in 1978. Never formally trained on the instrument, Lewine learned primarily by playing. "Most of my early lessons were from pianists or guitarists who would yell at me when I played a wrong chord or drummers who threw sticks at me if I messed up the beat." Lewine considers bass great Milt "the Judge" Hinton, whom he first met in 1982, a mentor. He has received "green room" lessons from Ray Brown, Harvie Swartz, Leroy Vinnegar and John Clayton as well.
Lewine has worked with many of the great names in jazz over the years, including numerous appearances with "alto madness" saxophonist Richie Cole. He has also performed with clarinetists Eddie Daniels and Kenny Davern, sax masters Joe Henderson and Henry Threadgill, vocalists such as Anita O'Day and Mose Allison, pianists including Ronnie Matthews and George Cables, drummers Gus Johnson and Butch Miles, guitarists Barney Kessel and Herb Ellis, young turk Roy Hargrove, and old masters Sweets Edison and Carl Fontana to name just a few.
---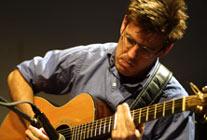 John Kamman is a Washington, DC area guitarist and composer. John's approach combines 18 years of jazz performance and private studies of avant-garde classical composition with composers Mark Alberger and Brian Horner. His influences are due, in part, to an international background, having grown up in a variety of countries, including Kenya, Cuba, and the Soviet Union.
John's expression and facility with the blues led to work with Whop Frazier, O.C. Nunn and 'Skip' Lester, among others, as well as ovations on stages from Los Angeles to La Paz, from Blues Alley in D.C. to The Dacha in Moscow. In 1993 John made the decision to leave the blues scene to focus on jazz and composition. John's work with the harmolodic funk band Vector consistently piqued interest, leading to performances at the Washington Monument and an Inaugural Ball for Bill Clinton. In addition to the Alan Lewine Xtet, John currently performs with Armand Ntep and the Afro-Jazz Explosion, a group blending jazz and African styles.
As a composer, John is producing a number of events in conjunction with the American Composer's Forum. He is currently composing a major work for and producing a concert series featuring the classical chamber group Washington Musica Viva along with area jazz musicians. John also originated the upcoming "Offstage " event at Strathmore Hall, opening the door for dialog between composers and the community. Other recent works include a series of commissions for Jane Franklin Dance, recently performed at The Kennedy Center's Millennium Stage and Gunston Arts Theater.
Check out Alan and John's website at http://www.owlsong.com
---
Also--returning from Philadelphia for a special appearance with Profusion, singer/songwriter, Charlotte Littlehales
Welcome the New year with Profusion and special guests Five 'N Time
Jill Martinez, soprano
Joanne Weiss, second soprano
Sally Selby, alto
Bruce Weiss, tenor
and Dave Selby, bass

---
| Pictures From November 2003 Performance |Pictures From October 2003 Performance |
| Coffee House Feature Act | Location and Directions | Gazette News Article | Journal News Article |
| Inwood House HomePage |