Inwood Coffeehouse
Friday, December 12, 2003. Doors open 7:30 PM
| Feature Act | Location and Directions | Gazette News Article | Journal News Article |
| Pictures From November 2003 Performance | From October 2003 |
---
Featuring This Month: A Christmas, Chanukah Holiday Celebration with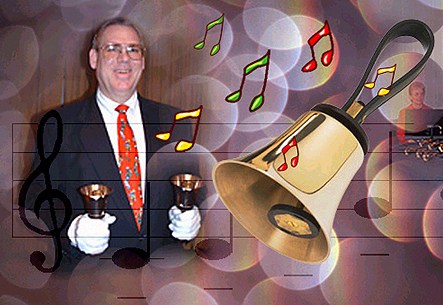 Lin Wallberg, Solo Handbell Artist
Janie Wallberg, Pianist
Audiences and congregations all across the southeastern United States have thrilled to the power and dexterity of Lin Wallberg's solo handbell artistry. Coming out of a Music Ministry background, much of his repertoire consists of arrangements of hymns and other songs of worship, but he rings a wide variety of styles - melodies from the classics, opera, standard pop tunes, and our patriotic heritage are presented with a skill that amazes listeners wherever he rings.
A Member of the American Guild of English Handbell Ringers, Lin received his Bachelor of Music Education degree from Stetson University and the Master of Church Music degree from Southwestern Baptist Theological Seminary. He has been presenting solo bell concerts for nearly 20 years. Janie Wallberg, Lin's wife, has been his accompanist for all of those years, and more. She, too, trained at Stetson University, receiving the Bachelor of Music Education degree. Together, they bring a delightful and unique program of beautiful music to brighten the holiday season at the Inwood Coffeehouse. Check out Lin's homepage at bellsolos.com.
---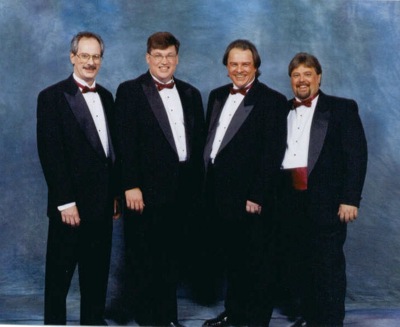 With Special Guests: Over The Top

"Over The Top" is one of those rare groups combining beauty and brains, with a dash of musical ability. OTT represents the cream of the Frederick chapter of the Society for the preservation and encouragement of barbershop quartet singing in America. Jeff Avey (Lead) has served the barbershop community for over 13 years. He currently directs the Chorus of the Potomac from Allegany County as well as the award winning Frederick Catoctones Barbershop Chorus. John Reece has been singing barbershop music for the past 15 years. His experienced tenor voice compliments the quartet leading to a sound that is Over The Top. John has performed in a vast number of annual shows and local performances dating back to the vaudeville era. Brett Hunt, (baritone) is often at the center of the decision making process in the quartet as all the other members are too nice to actually make a choice about anything. Kevin Flynn (Bass) has been singing A Capella since 1977 largely due to being too lazy to play an instrument. Kevin is involved in musical theater having recently performed in Me and My Girl and Brigadoon at Montgomery College,. Kevin sings in a variety of styles ranging from classical, madrigal, jazz, blues, to bluegrass. The other quartet members just wish he would sing barbershop once in a while.
---
| Pictures From November 2003 Performance |Pictures From October 2003 Performance |
| Coffee House Feature Act | Location and Directions | Gazette News Article | Journal News Article |
| Inwood House HomePage |
2003 Archives | October 2003 | Nov 2003 |