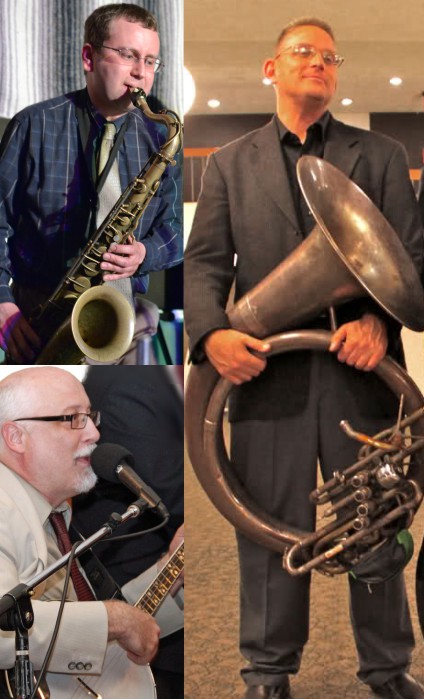 The Seth Kibel Trio
Seth Kibel - clarinet saxophone flute
Rick Eldridge piano and banjo
Tom Holtz - tuba
As the instrumentation might suggest, the trio focuses on traditional New Orleans jazz, also known as Dixieland. But they do much more than that, with forays into more modern forms of jazz, blues, funk, and even klezmer.
Performing with some of the finest bands in klezmer, jazz, swing, Seth Kibel has made a name for himself as one of the Mid-Atlantic's premier woodwind specialists wowing audiences everywhere on saxophone, clarinet, and flute. Over the last ten years he has been the recipient of 22 Washington Area Music Awards (WAMMIES) including being named Best World Music Instrumentalist and Best Jazz Instrumentalist. Seth has appeared with such notables as Sam Moore (Sam & Dave), Percy Sledge, The Coasters, and Johnnie Johnson. He has performed at the Kennedy Center, the Carter Barron Amphitheatre, the Lowell Folk Festival in Lowell, Massachusetts, as well as on several European tours.
Self-taught musician Rick Eldridge was performing onstage since before he was legal to drive. Aiming to please his audience, and striving for versatility, he learned to play keyboards, bass, guitar, and tenor banjo, mastering blues, jazz, rock and folk, and finally, vintage jazz and swing. In a career spanning 40 years, Rick has performed with Chuck Mangione, Billy Drummond, and Karen Briggs (now with Yanni). His solo jazz piano CD Solo Flights has met with critical acclaim. Rick recently toured New Orleans, where he performed with Steamboat Willie and the legendary Dukes of Dixieland. Rick currently plays piano and banjo both as a solo artist and with Washington-area bands such as New Legacy Jazz Band, Dixieland Direct, and Fascinatin' Rhythm.
Tom Holtz former tubist with "The President's Own" United States Marine Band in Washington, D.C. is an active musician in both classical and jazz venues. He has performed with a diverse range of groups such as the Bayfield Brass Quintet, the Last Chance Jazz Band, Big Bertha's Rhythm Kings, the Salisbury Symphony Orchestra, the Federal Jazz Commission, the Handel Choir of Baltimore and local Oktoberfest favorite Heimat Echo.