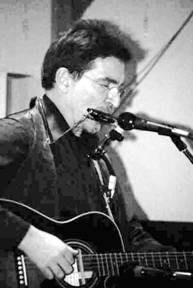 Buck Stone (AKA Jeremy Stone Schuhmann) has been active in the DC music scene for over 30 years, (despite the advice of his early music instructors who suggested that pool service or possibly lawn care might be more suitable avocations). Buck's often humorous original songs deny characterization, combining elements of honky-tonk, country, bluegrass and blues, and have sometimes been unkindly described as "having something to offend everyone." Nevertheless, Buck has won several awards for his efforts in local songwriting contests.
Known as a multi-instrumentalist as well as a singer-songwriter, Mr. Stone makes up for his lack of professional skill on any one instrument by knowing how to play many different instruments at a level self-described as "just enough to be dangerous." In fact, he has been known to play several instruments in this fashion simultaneously, in the vain hope that the "whole will be greater than the sum of its parts".
Buck's fondest musical memories include opening for The Dillards at the Cellar Door (with the The Joanne Dodds Band), opening for Sam and Dave at the Psychedelly (with Jr. Cline and the Recliners), backing up (singer/songwriter) Dave Allen in concerts at the Wax Museum and the Barns at Wolftrap, and being the only white guy in the backup band for The Four Tops at a big corporate party at The Sheraton Hotel in downtown D.C. Buck will be ably backed up by the Bucktones, which is comprised of fellow Takoma-Zoner Steve Kerst on dobro and lap steel, former member of the Wammie-nominated bluegrass band Dixie Cannonballs and occasional Takoma-Zoner John "Nowa" Nowakowski on bass, and Tom McLaughlin (currently appearing regularly with Randy Barrett and Dede Wyland and with the Oklahoma Twisters) on mandolin and fiddle. As a special treat, vocalist Martha Malone will join Buck on several songs.