Friday, June 10, 2005. Doors open 7:30 PM
| Feature Act | Location and Directions | Gazette News Article | Journal News Article |

Slide Show from The June 2005 Performance
| May 2005 Coffeehouse Pictures | April 2005 Coffeehouse Pictures |
| Mar2005Pics | Feb2005Pics | Jan2005Pics |
---
Our last coffeehouse for the season
Start your summer with the fabulous
Jay Cooley Group
featuring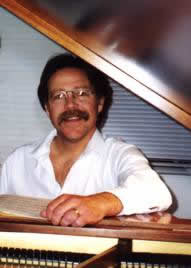 Jay Cooley, piano
Jay Cooley, besides being an accomplished soloist, is a supportive, extremely knowledgeable jazz-artist and a collaborative player. His extensive understanding of classic jazz song-style not only brings the feel of a song to life, it also helps define it for the singer. The subtle artistry of Jay's solos and rhythmic layering of his comping is the cornerstone of the music. Jay defines the humble jazz gentleman of another era, and his classy style, both personally and musically, is contagious.

Scott Giambusso, bass
Scott Giambusso is a native of Washington D.C. He has been playing music in this town since 1968 and continues to thrive on the local party and concert circuit. Though mainly an acoustic bassist, Scott plays electric bass and is studying the baritone horn and congas. After years of playing covers and standards, Giambusso has finally made a debut recording of a lifetime of writing. This eclectic combination of tunes and jams is fresh and smoking and the 8 piece band plays with power and vitality. Click here to read more about Scott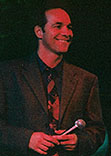 Mike Thornton vocals
Powerful and caressing, versatile and fluid, Mike Thornton can be daring and calculating in the same phrase. In the Washington D.C. area the Mike Thornton Jazz Quartet can be found playing at the Twins Lounge, Bohemian Caverns, Twins Jazz, State Theatre, Bistro Europa, the Ice House Cafe, the Kennedy Center, Bangkok Blues, and outdoor concerts throughout the region. Besides being a great jazz artist, Mike is a featured performer with the nationally-known comedy troupe: The Capitol Steps; performing Off-Broadway and touring the country making people laugh. Click here to read more about Mike
Join us for our last coffeehouse of the season. There will be lots of great music and some special guests. And don't miss Inwood House's own Mike Conlon as he lends his vocal talents to Profusion.
---
| Picture Archives From Previous Shows | Dec2004Pics | Nov2004Pics | Oct2004Pics |
| Coffee House Feature Act | Location and Directions | Gazette News Article | Journal News Article |
| The Inwood House HomePage |